In the August 2013 edition of  "Psychology Today", research psychologists Todd Kashden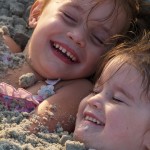 and Robert Biswas-Diener make the following bold claim: "One of Life's sharpest paradoxes is that the key to satisfaction is doing things that feel risky, uncomfortable, and occasionally bad".  This claim piqued my interest, especially in light of a previous blog I wrote wherein I feature a video of JFK stating, and I paraphrase, "We choose to go to the moon not because it is easy, but because it is hard.  Kashden and Biswas-Diener have devoted a considerable amount of time researching the life styles, values, and habits of people who self describe as having the happiest of lives.  "Happiness", as defined by the researchers, means not just the ability to experience fleeting moments of joy.  Rather, they are examining the lives of people who feel peaceful, contented, and accepting of both themselves and the lives they have created.  So, what are the secret ingredients of such lives as these?  Kashden and Biswas-Diener have identified five key personality traits and behavioral characteristics that seem to be associated with people who are mostly,… just happy.  Here are the five.
#1 Curiosity, and the willingness to satisfy it
The most surprising finding coming out of the research relates to this idea that our most satisfying life experiences come out of the times when we feel most afraid, and most out of our personal "comfort zone".  Quoting directly from the "Psychology Today" article, "It turns out that activities that lead us to feel uncertainty, discomfort, and even a dash of guilt are associated with some of the most memorable and enjoyable experiences of people's lives.  Happy people, it seems, engage in a wide range of counterintuitive habits that seem, well downright unhappy".  So, what would lead someone to do something that was risky, and/or uncomfortable?  The answer is simpler than you might think. Happy people are insatiably curious…and this curiosity impels the person to satisfy the "need to know". To quote the article again, "Curiosity, it seems, is largely about exploration—often at the price of momentary happiness. Curious people generally accept the notion that while being uncomfortable and vulnerable is not an easy path, it is the most direct route to becoming stronger and wiser" As the researchers note, "Curiosity—that pulsing, eager state of not knowing-is fundamentally an anxious state". I had never thought of curiosity as being akin to anxiety, but of course it is. Anxiety is often about "fear of the unknown". Curiosity moves that anxiety into action.
#2..The ability to see the forest and not focus on the trees
In the article it states that "satisfied people are less likely to be overly analytical and detail-oriented…..The happiest people have a natural emotional protection against getting sucked in by the intense gravitational pull of little details"
In my view, this is a really hard one to fight.  The culture puts such emphasis on accomplishments such as grades, performance reviews, and general "conscientiousness". Doing well often means paying attention to the details. Yet, apparently the happiest people tended to perform less well  on these measures.  Perhaps the answer lies in trying to give up on the ultimately impossible quest for perfection, and engage in more activities that are just joyful in and of themselves and not oriented toward producing a  "perfect" product.
#3 Be An Unjealous Friend
I resonate completely with this one.  Given that close friendships are closely allied with happiness, its no surprise to me that .."the happiest people are the ones who are "present" when things go right for others—and whose own wins are regularly celebrated by their friends as well.". What I know though, is that I'm quite capable of jealousy, particularly when I feel it could, or should, have been me that lives in "that" house, or has "that" much money…or whatever it is. What I have tried to do recently is turn my feelings of jealousy into a motivating factor.  That is, rather than "why does she have that and not me"…it can be "wow, if she has that, maybe I can too.  What would I have to do?…This feeling is much more expansive, and allows me to truly rejoice in the good fortune of my friends and relatives.  Then, when I have good fortune, I will have good friends to celebrate with.  Bottom line is…what's the use of joy and good fortune if you have no one to share it with?
#4 Don't Hide from Your Negative Emotions
In this article the researchers talk about the importance of recognizing and accepting that life is full of disappointments, and using the feelings that are engendered to develop self-understanding and compassion.  Here the importance of "naming and claiming" the emotion is emphasized as well as communicating your feelings to others who may or may not be involved directly in how you are feeling. In the article they talk about the skill of "flexible responding" to situations that make us feel uncomfortable, fearful, or angry.  "Flexible responding" means you don't "go off" on the traffic cop who issues you the ticket, for example, but you may express your frustration in an appropriate way.  Flexible responding also means the ability to tolerate emotional discomfort, as you give yourself time to discover the source of it, and craft a more useful response.
#5  Above all, strive for Balance
Number five is the one that brings all of the others together, in my mind.  It seems to me it goes along with the Buddhist idea of living in the present and living each moment to the fullest, while also planning for the future and being realistic about the constraints of time and other physical realities. Maybe it also means noticing, and appreciating, the details of a situation without being so caught up that we lose "the big picture".  This is where the real "art form" of living comes in, in my view, and no amount of scientific research can possibly capture the essence of that experience.  We just know it when we feel it…that sense of just knowing we are in the "flow".  Hopefully these five principles will give some insight as to how tweak our lives in order to feel this flow, more of the time.