Burning Man 2015  The Best And Worst Of Times
A little over one week ago I returned home from Burning Man 2015. This was my second "burn". I went back to Burning Man this year for many reasons…the creativity, the art,  the opportunity to be fully alive and authentically myself… and the amazing community of likeminded souls…. all of these unique qualities of this experience drew me back. Such an experience is simply not available anywhere else that I know of. That's why I go. That's why many go…year after year.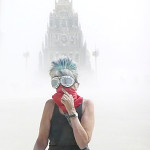 The Worst Of Times
       There is a "catch" though…as I discovered more fully this year. The physical environment on the "playa" at Black Rock City (home of Burning Man) can be quite harsh and unforgiving. Wind and weather patterns are extremely changeable and unpredictable. This year brought with it nightmarish dust storms that occurred with greater frequency than usual…. the worst in 10 years…I was told by the "old timers". If you have never experienced a "white out" in a dust storm. ..Trust me…. its no fun. The dust kicks up to such a frenzy that you literally cannot see more than a few feet in front of you. All the while you are just staying in one place trying to keep most of it from invading your eyes, mouth, and nose. This you accomplish with face masks, goggles, and scarves. You can do nothing but "wait it out". Throughout all of the "whiteouts" of Burning Man 2015, I truly wondered about my sanity and judgment. Is this "fun I asked myself? In those moments my feelings were clear. No. This was not fun. This was unmistakably "the worst of times"…until it wasn't. I will try to explain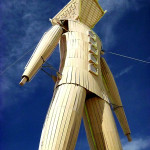 Lifting the "veil" to reveal…The Best Of Times
So….here I am right in the midst of a "white out". My patience is "tried" to the max. I'm miserable… to state it bluntly. Then…. slowly but surely a miracle begins to occur…. within me. Just because I have to…I let go. By this I mean…I just surrender to it. I begin to realize that the swirling dust has a life of its own and I become fascinated by the way it selectively reveals parts of the Playa. It's a little bit like an "old school" photography darkroom when you watch a photograph begin to emerge in the final "developing" bath. I always thought that process was miraculous. Now it was happening to an entire landscape. There was the Man, and the Temple, and all of the amazing art and all of the unique citizens of Black Rock City. They were all there, hidden beneath the veil of dust that temporarily obscured them.
All Of This Natural and Man Made Wonder and Creativity Was There All Along
The "take away" lesson of 2015 Burning Man has to do with the way life is. Is it not true that in the midst of the "worst of times" for all of us…there is always the possibility, maybe even the inevitability, of a better tomorrow? For me…. it is comforting to imagine that the dust has already cleared in this "as yet unseen" future, and if I can see glimpses of it…even as I am still "suffering"…. I am already co-creating that better future.
I, myself am "lifting the veil"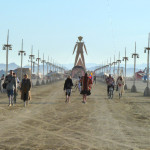 The Day Of The "Man Burn"….Burning Man 2015
The day the man burned at Burning Man 2015 was an absolutely perfect day. It was a purely and completely blissful day in every imaginable way. From morning till night…there was not a single dust storm and the temperature was ideal.
So…. here is another life's lesson for me. This perfect day at Burning Man would not have been anywhere near as sweet without the difficult days that preceded it.
That's just the way it is. How can we possibly appreciate bliss and euphoria if we have not also felt the polar opposite?
Will I go Back To Burning Man?
The truth is…I don't know. As I contemplate the possibility and remember, the experience calls me back to a place that has become a part of my identity…and that is a strong pull indeed. When you get through the opening gate of Black Rock City you are greeted by greeters who declare "Welcome Home"…and that's the way it is. If it has seeped into your soul, it simply never leaves.
We'll see.