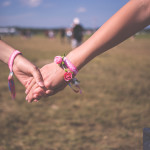 This Thanksgiving I want to give a giant "Shout Out" of thanks to the "Best" of my Best friends. So, who are these people? Over the years I have evolved a definition for exactly who they are, and who they are not. Here is what I have come up with: 
I may have known you for a very short time, or for a very long time. Regardless of this, I know that you "see" me in the very fullest sense of this word. In your "seeing" of me you convey to me through word and deed that you "accept" all that you see.
I understand, and I would like you to understand that fully "seeing" me does not mean that you always agree with me, or that you agree with a particular course of action I may have taken. Quite the contrary, I value you, and would hope that you value me for having the courage to tell me when you feel I am "off course". I want to know when something I do or say does not "align" with who you think I am. I want to do the same for you. I want to know if I have "hurt" you in anyway….knowingly or unknowingly.
Please do not ignore me when I have displeased or hurt you. Nothing is more insulting or "relationship killing" than a complete lack of communication when there has been a breach in our relationship. Even if you can't talk to me right now, just tell me that. I can deal with that, rather than the feeling that I am invisible and have no impact on you. If you are doing this to punish me, then you have achieved your purpose, but you have also damaged our relationship.
I find myself wanting to say "please don't judge me", but I catch myself wanting to amend this understandable sentiment. Lets be real. Let's be authentic. You will judge me. I will judge you. Maybe the word "judgement" is the problem. What I want from you is an honest assessment, lovingly delivered, of how I "come across" from your standpoint. I want to know if you are concerned about this. Please…be my mirror…when my own mirror has become clouded or distorted. I will do the same for you. You have my word.
So, that's it…my list of four essential characteristics of relationships in my life that have nurtured and sustained me. These are the resilient relationships I treasure. They are the ones that last and last, and are unaffected by the boundaries of time and space. I feel the lasting impact, even after death separates me physically from my loved one.
My wish for everyone is to have at least a few of these deep, connecting, and sustaining relationships in your life. You can never have too many, but you need at least a few