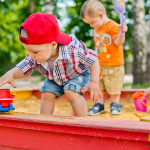 Early on in my training to be a pre-school teacher I took a course in The Observation Of Young Children". The idea was to observe children ages 2 thru 5 as they "played" in a natural environment. The experience was "Eye Opening"
What I found is that children become very social at an early age. Making friends is of paramount importance and not all pre-school children are very good at it. Some are very dominating (bossy). Others are extremely shy and easily dominated. It is the beginning of the power dynamics that we see playing out in relationships throughout the life cycle. You see it in couples, in siblings, in the workplace, and even politically on the National and global scale.
What I grew to understand over the years is that individuals who have the need to dominate others are not that different in a certain way from those who are easily dominated. They are both fundamentally very insecure in terms of their own identity. Here is how I see it:
Even though the seemingly more powerful can manipulate and bully others to do their bidding (and yes I see this in a 3 year old), underneath that "bravado" is someone who feels like they can't just simply ask for what they want. The fine art of relationship formation whereby there is a "give and take" of getting to know one another is unknown to a bully. In truth they are afraid. I have seen this fear in a three year old who does not know how to make a successful social approach, but is dying for a friend.
The easily "dominated" have a different kind of problem. These kids on the playground were often painfully shy. As shy as these kids were, I would observe them agreeing to do "anything" to curry favor with the more dominant children on the playground.
So…there you have it. In preschool the power dynamics in relationship are already beginning to show themselves. Preschool social development is where you see lasting patterns of social interaction. Later on, these dynamics show up again when superficial relationships deepen and become intimate. This is what I discovered as I moved from being a preschool teacher to becoming a relationship therapist