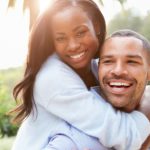 Fulfilling mature relationships don't happen overnight. Most often two people come together through the magnetism of mutual attraction. This is what brings people together but its not what keeps them together
Everyday life intervenes eventually in all relationships. This is when the real work of relationship building begins. It takes patience and commitment to build a lasting relationship. It's also helpful to keep in mind the following key "relationship building" guidelines:
1. Get To Know The Full Relationship History Of Your Partner
More than likely you are not the first person your partner has been in relationship with. For this reason it's important to start the dialog early on about all of the romantic relationships that have preceded you. It's also important to begin to understand relationships in a broader context as concerns your partner. What kind of friendships and family relationships are in his/her current and past life? All of this is important data when you want to develop intimacy with another person. You need to talk about and explore strengths and vulnerabilities with each other. Are you with someone who has lasting relationships or not? Does your love interest have close family and friends? If not, why not?
2. Practice Effective Communication Immediately With A New Love Interest
As you are getting to know someone new, remember to do at least as much listening as you do talking about yourself. Slow everything down and check that you are truly understanding what it is that is being said. You can even check your understanding by asking "Did I get that right?" Or, "Is this what you're trying to say?" Don't assume you know things, or interrupt the flow of another's conversation. Ask questions and be curious.
3. Build A Deep Friendship Based On Mutual Respect And Trust
Focus on what you can give to another rather than what they can give you. How can you be of service to this person in support of who they are authentically as a human being? Do for them and they will do for you. That's how it works. The love flows naturally from this.
4. Build A "We" In Relationship That enhances Rather Than Detracts From Each "I"
By This I mean that in the best and most mature relationships, neither individual needs to force the other to sacrifice who they are as an individual. You each become who you are, and this is a source of pride and wonder for your partner, rather than a source of competition or derision. Together you become more than the sum of your parts because of the unique "blend" that you are. Individually you are each of you whole human beings and you value and support each other on your lifelong journey.
5. Find the right "balance" in your relationship… in all things.
Time together should ideally be balanced with time alone. Time with "Us" friends should be balanced with time with "Me" friends. Always find ways to have "me" time. Balance of "power" means equality in terms of making mutual decisions, and taking the needs and preferences of your partner into consideration.
These five concepts are just "starter" ideas I have come up with though my experience with watching and counseling children, individuals, couples, and families. It's about finding and keeping relationships that are about growth and change, rather than suffocation and dominance. It's also about valuing equally the "relationship" and the" individual".