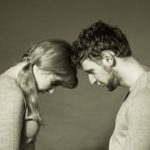 If you've ever worked on a task over and over again and "failed" repeatedly, you know what its like to feel powerless. You may want to just "give up" and decide this is something you cannot do. You may also feel like a "victim" of overwhelmingly difficult circumstances.
Feelings of helplessness and hopelessness are the hallmark of "Depression". Such feelings may be fleeting and changeable as circumstances improve. For some people however, a depressed mood occurs over and over again…as though it is worn into the groove of a person's psyche. Then it's more difficult to "lift" such a mood, and it becomes a "depressive disorder"
A key part of depressive disorders is the "negative thinking" that comes along with them. It can be difficult to talk to a depressed person…as they tell us over and over that things will just never get better. They want to give up trying and just resign themselves.
Thankfully, the fields of positive psychology and cognitive behavioral therapy have come up with some solutions to negative thinking. These solutions are based on the assumption that depressed people have fallen into a state of "learned helplessness''. The "helplessness" is actually "learned", as anything else is "learned" by a series of instances where a person cannot escape negative outcomes. Think for example of a woman in an abusive relationship she cant seem to escape, or a child who simply "gives up" on his school work. "Its just too hard"…he will tell you. Pretty soon this child will be reluctant to try anything new. He will assume failure before even giving it a shot.
The good news is, that most anything "learned" can be "unlearned" You can "unlearn" your feelings of helplessness by developing a positive "explanatory" thinking style that looks carefully and dispassionately at the "why" when something negative happens.
The important thing is you "open up" rather than "close down" your thinking about a situation. You become curious about the complex dynamics that may have created the situation and you are open to "out of the box" solutions.
Problems in relationship are no different than other problems, I believe. I have seen individuals who "give up" on solving their relationship difficulties. Here are some guidelines I always suggest to people for developing the most effective mindset for solving relationship roadblocks.
Think of yourself as an explorer and problem solver who assumes the answer is "out there". Its just waiting to be discovered
Become curious about yourself and your partner. What makes each of you tick? How did you get this way?
Try to rid your speaking and communication language of "victim" and/or "blaming" vocabulary. The words we use are tremendously important to the way a problem is conceptualized
When you see yourself as a "victim" and the other as the "perpetrator" your options close down. There is nowhere to go and you are effectively "trapped" within your own mind. See yourself instead as a dynamic/moving part of whatever is going on. Whatever you yourself are doing to perpetuate the situation…you just have to not do it. You can change your own behavior. It's actually the only thing you know you can reliably change. Even a person in an abusive situation can choose to leave if he/she believes the choice is possible.
Bottom Line….You're not Helpless. You never are in the truest part of your being