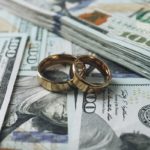 An Important Key To Relationship Health:
One of the first questions I ask of a new couple when assessing the resiliency of their relationship relates to how money is "handled" in their day to day lives with one another.  Specific questions might be:  "Where do you actually put the money that one or both or you earns?"   "Do you comingle everything or have separate accounts?"   "Who pays the bills and how do you decide on minor or major purchases?"  Answers to all of these questions can reveal a lot about how the power dynamics work with this couple.  Also, I can tell by the answers I get and the "tone" of voice with which the answers are given weather money is an issue of contention with this couple.
For example, if I hear that all the money is "comingled" together then I know that for this couple, at least in theory, there is a sense of "what's mine is yours, and what's yours is mine" The money is "Ours".  However, if I also hear that   one member of the couple tightly controls "access" to the money, and even the most minor purchase must be approved in advance…then I know there is a   "power" issue.  I may also hear of large purchase decisions being made "unilaterally" by one member of the couple. This also becomes an issue.  If the money is truly "ours", should not we both be a part of decision making when it comes to spending it?  On the other hand, it may feel   "petty" and controlling when a household item is needed and you don't have the autonomy to make this purchase.  It can feel quite insulting actually. Is your partner a co-equal or a parent?
The issue of personal autonomy can be perhaps handled by maintaining separate accounts and having an agreement about who handles which of the mutual bills. It may seem more "fair" in this case that you pay into mutual household bills according to how much money you make.  I have seen cases though, where one member of the couple  (usually the larger wage earner) insists on a 50/50 arrangement.  It always seems to me in these cases that there is an issue of trust and lack of generosity here. You are, after all, not roommates but a couple.  Should there not be some sense of looking out for one another and sharing your resources?  What does this mean about the other things you share in your life?  Does this mean that you can't take the same vacation together because one of you can't afford it?
A third option for people is a "hybrid" option where each has their own account, and also each contributes to a joint account for mutual ongoing household expenses. It has the advantage of allowing both people to maintain some kind of personal autonomy within the marriage and perhaps even "surprising" your partner with an unexpected gift that is part of your separately held money.  Obviously, this scheme will not work unless each member of the couple is actually making money to contribute to his/her t account.  Also, I think the danger of it is that keeping a separate account can become keeping a "secret" account.  What I always advise in this case is complete transparency between the couple.  You each should know how much money is held in your partners account.  Also, what is the end goal of this money? Is some of it being saved for a family vacation, or a child's education?  Does some portion get to be "Mad money" that I can buy myself a toy with? If so, what if your partner does not have as much "extra" as you do?  How does that feel?
I've seen couples handle their money in each of the ways mentioned above and I think they can all be successful.  Here are some principles to keep in mind:
Complete honesty and transparency are a must. You must each know how much money is available, where it is coming from, and how much exactly needs to be budgeted for each household related expense. Family budget meetings can be really helpful.  Decide who will pay which bill, in the same way you decide how to divide all family chores and responsibilities

Establish a "Threshold" for how much an item needs to cost for it to be a purchase that needs to be agreed upon.  For every couple its different, but it needs to be set at some level.  If it's a major purchase it affects the whole family and may mean a priority.  You need to agree on the priority

Discuss your values and life goals with each other frequently.  Do you have the same ambitions?  Do you agree on such things as public or private schools, or how much to spend on a house or a car?  Sometimes these things need to be discussed and negotiated.  Talk about how money was spent in your family of origin, to try to figure out your differences

Always keep in mind, if you are part of a couple and/or part of a family that its not just you anymore. The happiness and security of your partner and/or your children should be of utmost importance. Be generous with your money. Spending money on your loved one is a gesture of love. It will come back to you a thousand fold when you are in a healthy situation

I have worked with couples where it is assumed by either or both partners that the one who makes more money should have the most power. By Power, I mean.the right to decide how money is spent, or what the family values are or who is the true "authority" figure in the household.
In my view, assumptions about money that confer upon the earner of the money some extra status or a right to control anyone are just wrong.
At the very least, using money as a tactic to control another person is an unbalanced situation where one member of the couple is "less than"…has less voice, less agency, less solid "self".
In the worst-case scenario, unbalance in relationship amounts to abuse of power.
Definitely not OK in any circumstances.
So, pay attention to money and how it operates in all your relationships.   Remember, it's not a measure of your worth or anyone else's.